I decided to purchase a monitor — the LG 27UD58P-B 27″ IPS 4K UHD monitor — from Newegg.com. It's US list price at the time of purchase was $279.99. The PH price was PHP 15,053.99 for an effective 53.76:1 exchange rate. This exchange rate isn't too bad and it appears that Newegg still forces the converted price to end with .99, at least for items they sell directly (non-Marketplace items).
After adding the item to the cart, the estimated VAT was PHP 1806.48. This is exactly 12% of the unit price. The shipping cost was PHP 2586.50 for World EggSaver Express (2-3 Business Days). The next lower shipping level, World EggSaver Standard (3-5 Business Days), was priced about PHP 50 lower.
During checkout, the quoted tax changed to PHP 2,298.34 (~15.3%)  and is now labeled as Est. Duty & VAT. I still haven't figured out what formula Newegg uses to calculate duty and VAT. I tried checking out other monitors and the effective tax ranged from 23% to 35%. All-in, my total order cost was PHP 19938.83 or about $375.
I found the shipping cost to be quite reasonable. The monitor shipping weight is about 22 lbs. If I had used ShippingCart, the shipping cost alone would have been at least $154. Even though I wouldn't have had to pay the VAT with ShippingCart, I think my over-all cost was still lower ordering from Newegg directly.
I placed the order on 10/29 and it shipped the same day. It was originally scheduled to be delivered on 11/05. It arrived in Manila on 11/01 but did not get cleared by customs until 11/06.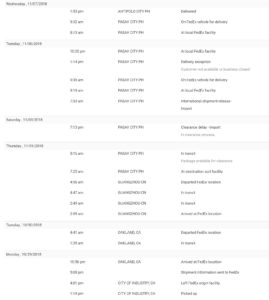 I read some people complain about FedEx charging some clearance and warehouse storage fees upon delivery. Fortunately I did not have to pay any additional fees to FedEx or to the Bureau of Customs. All in all, I think I would directly order from Newegg again if I find the total price, with duty, VAT and shipping to be competitive with using services like ShippingCart.